Saudi Aramco Partners with RPDC to Commercialize SWIM-R™
Transforming Saudi Innovation into Impact
Research Products Development Company (RPDC) is the national center for technology development and commercialization in Saudi Arabia, aligned with the Kingdom's 2030 vision to transform Saudi Arabia's economy. RPDC works with national research institutes and holders of large technologies and patent portfolios to commercialize innovative technologies and increase local content.
Saudi Aramco is one of the major companies that has a continuous partnership with RPDC. A recent study has been done regarding Aramco's underwater pipelines, and RPDC has been chosen as Aramco's commercialization arm for this project. With thousands of kilometers of pipelines installed at various depths in the sea, Oil & Gas companies expend significant resources to inspect, repair, and maintain these pipelines to ensure assets integrity, safety, and production reliability.
The Challenge
The current practice for maintaining and inspecting underwater pipelines is mainly through divers, who are connected to a support ship or a diving support vessel using an umbilical cord that supplies air and fosters communications. Usually, the divers carry traditional inspection tools such as: visual equipment, sensing means such as sonar and crawler cameras, as well as cleaning and marine life removal tools.
In shallow water environments, diving support vessels encounter further difficulties owing to accessibility and positioning challenges, which make the inspection of pipelines in shallow water difficult. The potential for accidents and other dangerous mishaps to occur to divers – not to mention the direct and ancillary costs for placing humans directly "in the loop" – have encouraged the development of robotic undersea equipment that is safer, more reliable and more cost-efficient than diver-focused solutions.
Saudi Aramco's Solution
To resolve the above problems, the Technology Commercialization office at Saudi Aramco has partnered with RPDC to commercialize an advanced marine inspection technology developed in-house by the Oil & Gas Network Integrity (OGNI) division at Saudi Aramco's Research and Development Center .
OGNI developed a novel robotic system with integrated cutting-edge technologies to inspect a network of pipelines in shallow water. The robot is remotely operated and proved its superior capabilities by enhancing pipeline inspection speed, efficiency and safety over existing solutions. It can either be installed from shore or by using a low-cost inflatable vessel to have it complete inspection tasks four times faster than divers.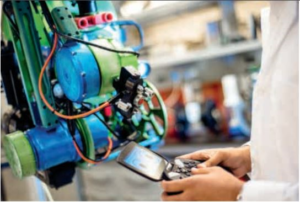 SWIM-R's robotic arm being tested in Saudi Aramco's lab
Partnership with RPDC
RPDC worked with Saudi Aramco's technical team to commercialize this robot and develop its path to market. Among other activities, RPDC helped identify Teledyne Marine, a leading US-based manufacturer of underwater Remotely Operated Vehicles (ROVs) with 80% market share of underwater inspection robots, as a technical partner for technology development. RPDC, with support from King Abdulaziz City for Science and Technology and partnership with Teledyne Marine, developed the industrial version which was launched recently in Houston, USA, during the 2018 Offshore Technology Conference.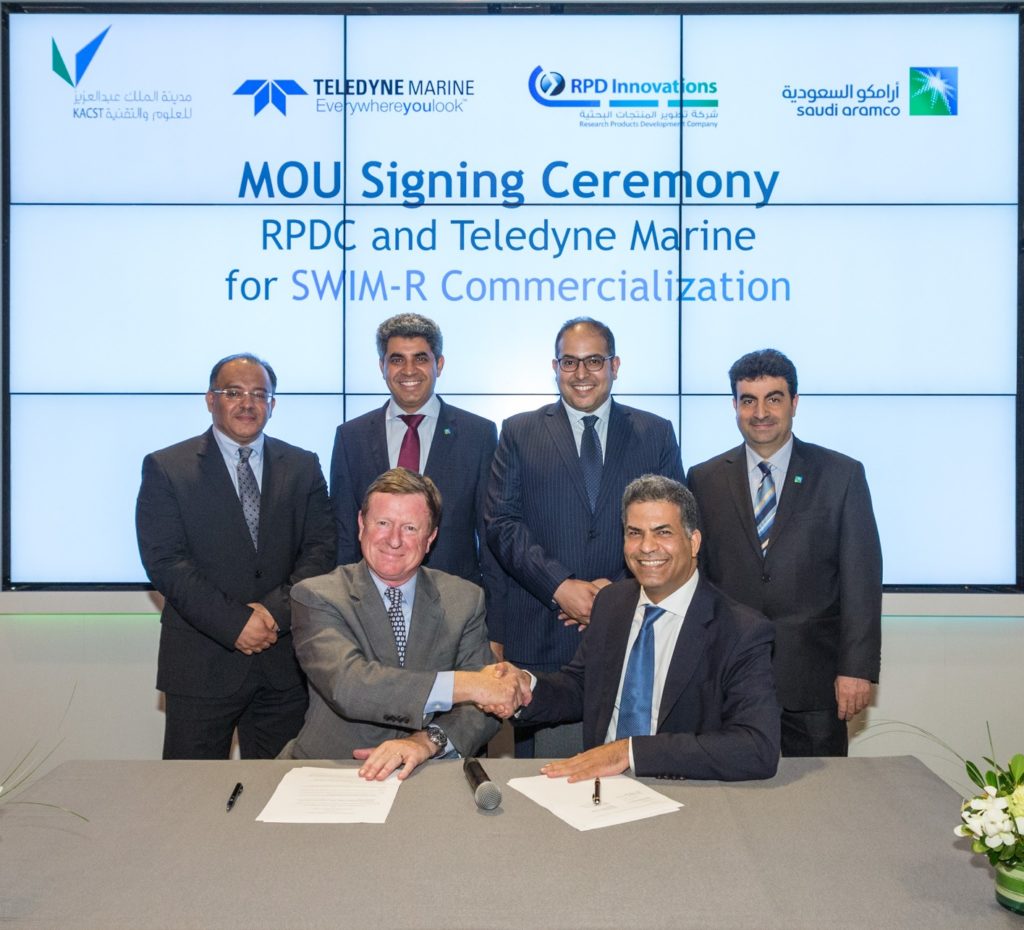 Signing – left: Mike Read, President, Teledyne Marine; right: Abdulmohsen Almajnouni, CEO, RPDC
The Shallow Water Inspection and Monitoring Robot (SWIM-R) is considered a breakthrough in the underwater inspection field.  SWIM-R was developed in partnership with Teledyne Marine, where the sensing technology and articulated arm developed by the Saudi Aramco team were integrated on a modified ROV platform tailored to Saudi Aramco's shallow water inspection applications. SWIM-R is designed to perform underwater inspection tasks in shallow water environments up to 100 meters in depth.  It will eliminate the need for deploying divers to conduct underwater inspection, significantly reduce marine inspection costs and time while increasing inspection safety. The unit can perform visual inspection, marine-life cleaning, and ultrasonic thickness readings, as well as cathodic protection voltage measurements on shallow water pipelines. Currently, there is no competing technology to SWIM-R in the industry, which combines the thickness probe and the cathodic protection probe on the same platform.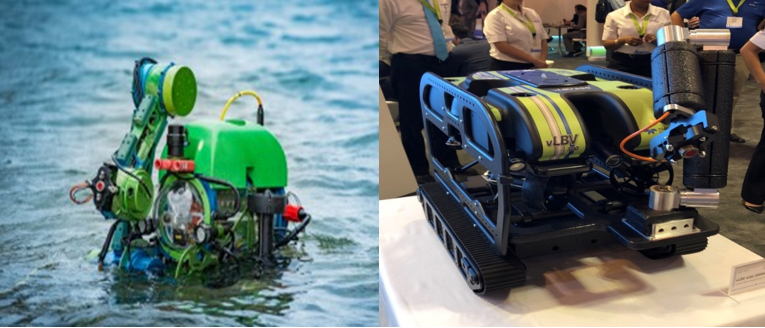 Left: early prototype developed and tested by Saudi Aramco. Right: Commercial version developed by RPDC and Teledyne Marine, launched during OTC 2018.
Path Forward
RPDC works with national R&D centers and global technology leaders to commercialize Saudi innovative technologies in the Kingdom through creation of startups. In support to the Kingdom's 2030 vision, RPDC is currently putting the final touches on creating a startup that will put SWIM-R and other robots and intelligent systems on the market map in Saudi Arabia. This startup will eventually have wide sales across the globe.