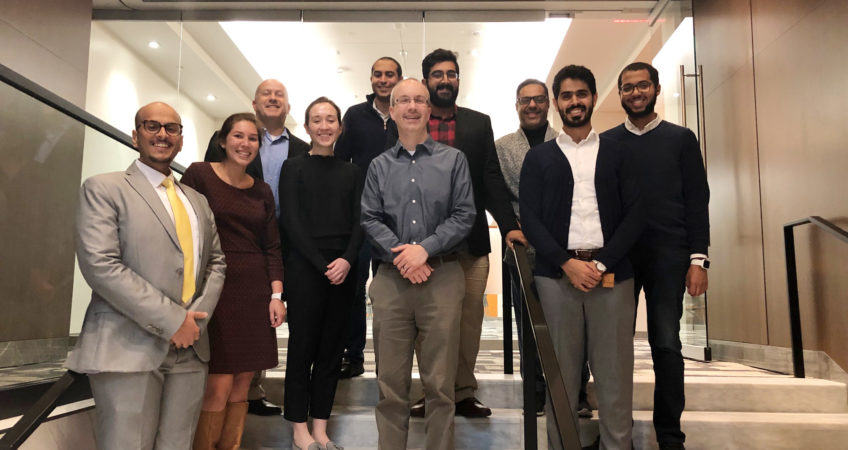 Consulting and Technology Analysis Training for SAARA Partners
Research Products Development Company (RPDC) and its strategic Consulting partner, Avascent, organized a three-week consulting and technology analysis training in Washington, DC for a team from the Saudi Arabia Advanced Research Alliance (SAARA). The event reflects the commitment of RPDC to build capacity in Saudi Arabia for consulting and analysis services and to transfer knowledge to SAARA partners. By sharing its proprietary tools, consulting intellectual property (IP), and practical know how, Avascent is aligned with RPDC in contributing to the country's economic diversification goals through technology commercialization and supporting knowledge-based industry.
 Adapted from Avascent's own training curriculum for incoming analysts and project managers, the program provided intensive training on foundational, "best practice" management consulting methodologies and tools to Saudi-based technology and commercialization experts within SAARA sponsors. The same tools and techniques are used by Avascent team members on a daily basis in offices around the world.
The training regimen began with robust lecture and case study approaches delving into such topics as Research Methods, Analytic Frameworks, Slide Messaging, Excel for Consultants, Market Modeling, and Introduction to Scrum & Agile Management Principles (among others). The teams then put these skills to use during a realistic "practicum," in which the SAARA participants developed modules and outputs for an actual technology commercialization engagement now underway between RPDC and Avascent. The final week involved a subset of the RPDC team "shadowing" analysts and project management teams and participating in project-specific workshops and seminars, again organized around active engagements now being worked for SAARA member organizations.
Mohammad Qatomah, a participant from Saudi Aramco, stated, "It truly was a great workshop. I learned the fundamentals of consulting and practiced what I learned on an actual case. Also, getting to meet the Avascent team and establishing relationships with them was another highlight of the workshop."
Zahraa Alhashem, a participant from RPDC, added that Avascent's transparency and knowledge sharing of "the essence of their methodology along with…decades' worth of experiences and expertise" gave her confidence in the team's "huge amount of effort in research to deliver state-of-the-art market studies and product evaluations."
With this pilot effort successfully concluded, Mr. Steve Irwin, Avascent's president, reiterated Avascent's continuing commitment to its partnership with RPDC and collaborative working relationship with SAARA members.
From day one, RPDC and Avascent worked hand-in-hand to provide rigorous and effective commercialization-focused consulting services to the Kingdom. Through organizing similar training workshops, RPDC aims to transfer the foundational skills and develop local consulting talent that can support the commercialization ecosystem in Saudi Arabia.
The Saudi Arabia Advanced Research Alliance (SAARA) is the first-of-its-kind alliance between premier organizations from both the public and private sectors. RPDC was established as an effective technology development and commercialization engine by SAARA. The founding strategic partners are Saudi Aramco, King Abdulaziz City for Science & Technology (KACST), TAQNIA, King Abdullah University of Science and Technology (KAUST), and King Fahd University of Petroleum and Minerals (KFUPM).
Avascent is the leading management consulting firm working in heavily regulated government sectors, including aerospace and defense, energy, and health care. Avascent has worked in the Kingdom of Saudi Arabia to help accelerate the commercialization of technologies into the stand-up of viable businesses, both within and outside the oil & gas sector. Avascent has partnered with RPDC as the Kingdom's partner of choice for technology commercialization.