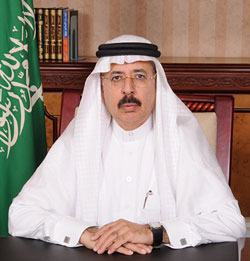 Professor Samir Al Baiyat
Supervisor of Technology Transfer, Innovation & Entrepreneurship – KFUPM
Dr. Samir A. Al-Baiyat is the Supervisor for Technology Transfer Innovation & Entrepreneurship (Chief Technology Officer) at King Fahd University of Petroleum & Minerals (KFUPM) since 2013.
He is a Professor of Electrical Engineering at KFUPM. He is also the Secretary-General of KFUPM International Advisory Board.
Previously, he served as the Supervisor of Dhahran Techno-Valley (2011 – 2013), and as the Assistant Supervisor for Public Relations & International Cooperation (2010 -2011). In addition, Dr. Al-Baiyat served before as the Dean of College of Engineering Sciences and Actg. Dean, College of Applied (2002 – 2010). Prior to that, he was the Chairman of the Electrical Engineering Department at KFUPM (1995-2002).
Dr. Al-Baiyat received his B.S. and M.S. from KFUPM in 1977 & 1980 respectively. He did his Ph.D. from the University of Notre Dame in 1986. His area of interest is Control Systems and its application. He has published many journal and conference papers in his area and authored or co-authored a number of technical reports. He has also received several awards and medals for his outstanding contributions.
Dr. Al-Baiyat chairs the Board of the Saudi Scientific Society of Electrical Engineers since 2003. He was the Chairman of the Institute of Electrical and Electronic Engineers (IEEE), Saudi Arabian Section from 1997 – 2002 and still continues to be a member in this society. Dr. Al-Baiyat was a member of the Electrical and Electronics Council in the Engineering Committee (1995-1998).